VFD DRIVE PROFESSIONALS
HTC has over 22 years of experience in VFD applications with specific focus on HVAC applications. Since 1985, HTC has been the Danfoss Graham Authorized Service Partner. HTC sales and service professionals clearly understand the proper application of VFDs. Teaming up with the North America Motion Control Division of Danfoss, HTC offers a wide range of hardware and service options.
SALES
Whether your need is for new installations, retrofits or upgrade/replacement of existing drives, our expertise in Variable Frequency Drives (VFDs) can provide you with the most cost effective solution.
SERVICE
As a Factory Authorized Service Station, HTC can provide you with the highest quality repair service for VFDs that are either in-warranty or out-of-warranty.
PRODUCTS
Danfoss Drives has been dedicated to developing VLT® electronics to control speed, torque, acceleration, synchronization, positioning, and the overall performance of AC motors.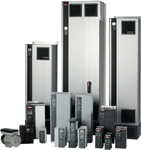 The reliable and innovative VLT® drives are designed to support motor control applications and provide major energy savings.